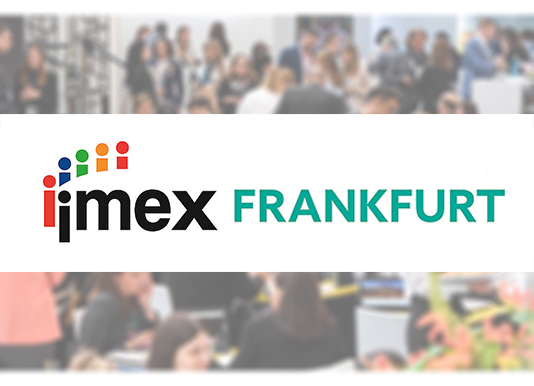 Event finished
Coming to imex
Dive into the heart of the global meetings industry over four action-packed days in Frankfurt. Meet exhibitors from across the world, gain insight and inspiration from industry experts and innovators, and join your peers at countless networking events.

Imex´s goal is to provide you with the perfect platform for professional and personal success. From connecting with the right suppliers, to keeping up with fast-changing event tech and legislation – we help you make it happen.

We offer:
The opportunity to do business with 3,500-plus destinations, venues and suppliers from 150-plus countries in one place
Countless opportunities to connect – whether you prefer the buzz of on-stand receptions or the high-octane energy of CIM Clubbing
A free professional education programme from in-depth seminars, to practical workshops and specialist forums
Our online appointment system and diary to help you plan your time easily and efficiently

BE OUR GUEST!
Free and flexible flights and accommodation are standard – and you'll experience our acclaimed VIP treatment before, during and after the show. There's no catch – you just need to meet our qualifying criteria of regularly planning or contracting large-scale events around the world.



Who can be a hosted buyer?
You need to meet our qualifying criteria of regularly planning or booking large scale events outside your home country.


What am I committing to if I come as a hosted buyer?
We recommend you make eight appointments per day, and that you stay for complete days at the show (we'll arrange your travel to allow you to do this). But you're always in charge of your own diary at IMEX
What's the application process?
Around 300 of our exhibitors invite their key clients to come to IMEX as hosted buyers (we call these exhibitors 'intermediaries'). So, if you receive an invitation from one of them, and you'd like to be a hosted buyer, complete the online application form.


Once the exhibitor that invited you has checked the form, we verify and approve it, and send you a welcome email with our website login. Applications usually take around 10 days to process and we may contact you to check some of the details.


If your application doesn't meet our qualifying criteria, we'll invite you to register as a visitor buyer. As a visitor buyer you'll still have access to our appointment system and a buyer badge.


31 May - 1 Jun 2022, Frankfurt, Germany
Date:
31 May - 1 Jun 2022
Location:
Frankfurt, Germany
Cycle:annually
Buyer Target:only Europe
Industry Sectors: MICE
Pre Tours: No
Post Tours: Yes
Fully Hosted: Yes
Organizer:
imex Group by Regent Exhibitions Ltd. United Kingdom